New Jersey State Nurses Association Recognizes 13 Top Nurses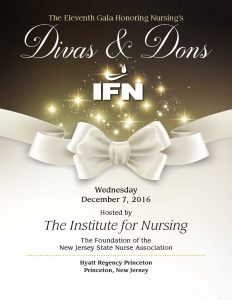 TRENTON, N.J.—Nov. 11, 2016—The New Jersey State Nurses Association (NJSNA) will honor 13 nurses for outstanding professional career accomplishments at its Diva and Don Gala on Wednesday, Dec. 7, 2016 at the Hyatt Regency Princeton Hotel in Princeton, N.J.
"Our Divas are New Jersey nurses who have made an extraordinary impact on the profession and the community," said Ben Evans, DD, DNP, RN, APN, chair of the Institute for Nursing, the foundation of NJSNA. "The Institute provides quality continuing education programs, grants for nurses involved in research and help for nurses who have substance abuse issues. We want to expand our scholarship and research programs to bring more nurses into our profession, and develop educational programs to keep nurses current on the major advances in health care. This effort is vital to improving the quality of health care in New Jersey."
The 2016 honorees are:
Jan Bednar, BSN, MS, RN, CEN, NEA-BC
Chief Nursing Officer, Saint Clare's Health System
Sharon Byrne, DrNP, APN, NP-C, AOCNP, CNE
Nurse Educator, The College of New Jersey
Nancy Jaskowak Cresse, DNP, RN, APRN-BC
Philanthropist and Faculty Member, Rutgers University School of Nursing – Camden
Claudia Douglas, DNP
Administrative Director, Institute for Evidenced Based Practice and
Nursing Research, Hackensack Meridian Health
Margaret Drozd, MSN, RN, APRN-BC
Director, Community Mobile Health Services, Saint Peter's University Hospital
Mary Fortier, EdD, RN, CNL
Associate Professor, New Jersey City University
Ann Logan, PhD, RN, NEA-BC
Chief Operating Officer, CarePoint Health – Hoboken University Medical Center
Judith Lucas, EdD, APRN, BC
Associate Professor, Nursing Faculty, Seton Hall University
Brenda Marshall, EdD, APN, PMHNP-BC
Associate Professor, Nursing, William Paterson University
Teresita Medina, MAS, BSN, RN-BC
Chief Nursing Officer, Behavioral Health Behavioral Health Center, RWJBarnabas Health
Assemblywoman Nancy F. Munoz, MSN, RN, CNS
New Jersey Assembly, District 21
Kristina Rioux, MSN, RN-BC, CEN
Education Specialist, Critical Care Education Team, Hackensack Meridian Health
Madelyn Yu, MSN, RN
Nurse Manager, RWJBarnabas Health
The Diva and Don Gala will take place on Wednesday, Dec. 7, 2016 at the Hyatt Regency Princeton Hotel, 102 Carnegie Center Drive in Princeton.  The reception will start at 6 p.m. with dinner at 7 p.m. Tickets are $150 per person or $1450 for a table of 10.
Sponsorship and advertising opportunities are available as well. For more information about tickets, sponsorship or advertising, contact Debra Harwell at 609-883-5335 ext. 119 or by email at deb@njsna.org  or Tyea Santiago at ext. 112 or by email at education@njsna.org.
###
About NJSNA
The New Jersey State Nurses Association (NJSNA) represents the interests of 125,000 registered nurses and advanced practice nurses as an advocate for the nursing profession. NJSNA, which was established in 1901, is a constituent member of the American Nurses Association. NJSNA's lobbying arm continues to protect the nursing profession through legislative victories. Its nonprofit foundation, Institute for Nursing, helps nurses further their careers by providing continuing education, scholarships and research grants in addition to invaluable networking opportunities. For more information, nurses can visit www.njsna.org or contact NJSNA at njsna@njsna.org or (609) 883-5335.