N.J. Nurses Welcome New President & President Elect
Dr. Benjamin Evans calls being named the first male president "humbling."
TRENTON, N.J.—Jan. 13, 2017— The New Jersey State Nurses Association (NJSNA) has sworn in the first man to serve as president in its history.
Benjamin Evans, DD, DNP, RN, APN, PHMCNS-BC, began his new leadership position as the 46th president on Jan. 1. The 115-year-old organization represents the state's 110,000 registered nurses.
"Being elected as president of NJSNA is an honor and a trust," Evans said.  "Being elected as the first male nurse to hold the office of president in its 115 year history is humbling. It is my hope that I can bring a greater awareness of the presence and contributions of men to nursing. During my tenure as president, I would like to see an increase in membership, especially among younger and second career nurses. I hope to be a visible advocate for nursing and position the association membership to respond to issues impacting nursing on many fronts."
With more than 42 years' experience in nursing, working in areas of chronic, catastrophic illness (eg. cancer, AIDS), addictions, general nursing and mental health, he is an assistant professor and advanced practice nurse track coordinator of the graduate nursing program at Felician University in Lodi. Evans also has his own practice that focuses on psychotherapy, medication management, counseling and educational programs.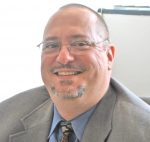 "This is one of the epic events in my 42 years as a registered nurse, which have been a profoundly rewarding career," Evans said. "Being president of NJSNA means I get to work with dedicated professional nurses, advocating for all New Jersey nurses in challenging health care times."
Evans is the founding president of the Academy of Doctors of Nursing Practice in New Jersey. He is a member of the Hudson County Mental Health Board and a NJ Disaster Response Crisis Counselor.
He completed a Master of Science in Counseling and a Master of Science in Nursing from the University of Evansville (Indiana) and a Doctor of Divinity degree from the American Institute of Holistic Theology. He is also a graduate of New York Theological Seminary with a Certificate in Christian Ministry. Ben has earned a Doctor of Nursing Practice degree from UMDNJ School of Nursing.
He was ordained an Old Catholic (not Roman Catholic) priest in 1995 and consecrated a bishop in 2002.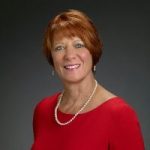 NJSNA also welcomed Kate Gillespie, MBA RN NE-BC as president-elect of NJSNA. She will serve as chairwoman of the Institute for Nursing, the foundation of the NJSNA and serve as a representative to the American Nurses Association (ANA) Member Assembly.
Gillespie is the assistant vice president, Orthopedic/Spine Service Line at the Virtua in Marlton where she has significant impact on the operations, strategic growth and physician alignment strategies. She has been with Virtua for 17 years, starting as a critical care nurse, then moving into nursing management. She is a Six Sigma Black Belt Certified leader with more than 35 years of nursing experience. She earned a BSN from The College of New Jersey and  an MBA from Eastern University.
###
About NJSNA
NJSNA, which was established in 1901, is a constituent member of the American Nurses Association.  The New Jersey State Nurses Association (NJSNA) represents the interests of 125,000 registered nurses and advanced practice nurses as an advocate for the nursing profession. NJSNA's lobbying arm continues to protect the nursing profession through legislative victories. Its nonprofit foundation, Institute for Nursing, helps nurses further their careers by providing continuing education, scholarships and research grants in addition to invaluable networking opportunities. For more information, nurses can visit www.njsna.org or contact NJSNA at njsna@njsna.org or (609) 883-5335.