N.J. Hospitals Still Desperate for Nurses, Despite $3.8M in Funding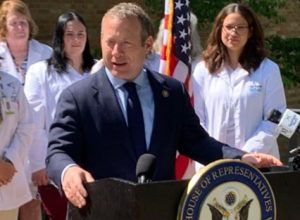 The trauma consumed a generation of nurses.
The endless hours in crisis conditions. The feeling of helplessness as they watched patients suffer and die. The fear of spreading COVID-19 to loved ones.
"Let's face it, everybody worked more than they've ever worked in their life…" said Michele Acito, the chief nursing officer at Holy Name Medical Center in Teaneck, of the pandemic. "Watching people suffer and die every day — that really has a lasting impact."
As a result, New Jersey nurses have left hospital work by the dozens since 2020.
Although the pandemic may be over, the long-running nursing shortage persists. And it's only going to get worse, officials say.
"We have to make sure we do everything we can to get a surge of nurses back in, especially when you look to see that, in New Jersey, it's one of the top states in the country where we have a problem," said U.S. Rep. Josh Gottheimer, D-5th Dist. "And in a couple years from now, we'll be the third worst in the country."
On Thursday, the congressman visited Sister Claire Tynan School of Nursing, run by Holy Name, to announce a $3.8-million federal investment in the school. The funding will help train dozens more nurses every year, providing more faculty, simulation training and equipment as well as maintaining affordability for nursing students at the Englewood Cliffs school.
But it will take time to resolve the shortage, Gottheimer cautioned. The pandemic exacerbated an already serious staffing crisis.
Nearly a third of New Jersey nurses have left the bedside in the past three years, according to a survey by Health Professionals and Allied Employees — the state's largest nurses union.
Some retired. Others opted to leave bedside care. And still others found the pandemic just too much to handle and left nursing altogether.
Meanwhile, newer nurses, the survey said, "are the most likely to consider leaving the bedside."
The top reasons? Poor staffing, burnout and stress.
Across the country, 100,000 nurses have left the field, with around 800,000 saying they intend to leave their jobs by 2027, reports say.
"In fact, New Jersey ranks among the top 10 states with the most unfilled registered nurse positions — more than 13,000," Gotteheimer said.
Holy Name, which was at the epicenter of the pandemic in its early days in New Jersey, has seen that burnout firsthand.
"It's been very difficult to retain nurses since the pandemic," Acito said.
"We had to turn to travel nursing, you can only imagine how difficult that is — you're used to working with one particular group, now all of a sudden, you have new nurses, they don't know your culture, they don't know your organization," she added. "That puts a lot of strain on the nurses who are left behind."
Holy Name CEO Michael Maron said it was rare before the pandemic for the hospital to use travel nurses.
"Rare occasions in certain specialties for a very brief period of time where you had to tap into some kind of an agency nurse to come work," he said.
The hospital would spend $200,000 to $400,000 in a bad year, according to Maron.
Then came COVID-19.
"Post-pandemic, and this crunch that we're in, we're spending $2.5 million dollars per month," Maron said. Then he added: "So we're moving aggressively to bring that down, but at its worst, which was for a long period of time — most of last year into the early part of this year — that was the bill every month."
But applications to Holy Name's nursing school have risen. In fact, the school has seen a 100% increase in applications, Acito said, though she noted the problem is finding enough faculty to train students.
And she thinks burnout is easing among current nurses.
"There's no doubt we saw burnout during the pandemic…" Acito said. "But we're past that now. And everybody realizes that we feel like we did before 2020."
(This story originally appeared in NJ.com.)