N.J. Hospital Copes with Trauma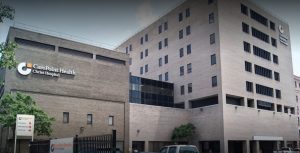 If you want to get a close-up view of how the coronavirus pandemic has taken its toll on America's health care system, just look at Christ Hospital in Jersey City, one of the nation's earliest hot spots. For the past three months this 375-bed facility has had to cope with a flood of COVID-19 patients, mounting deaths and a stalwart workforce stretched to the limit.
"We've never seen so much death," said Dr. Tucker Woods, chief medical officer. The numbers might have been higher if he and Christ's other leaders hadn't taken swift action to not only transform the hospital into a MASH-type operation but also keep its frontline troops physically and emotionally healthy.
By mid-March, Christ Hospital had trained a core team of physicians and nurses to treat patients in designated units, established procedures for reusing dwindling supplies of personal protective equipment (PPE) and erected an outdoor triage center. Behind the scenes, meanwhile, an existential threat was looming—a contentious acquisition deal that could lead to the hospital's closing altogether.
Despite the challenges, rather than eliminating jobs, Christ Hospital's leaders reconfigured its workforce of about 1,100 employees and redeployed hospital resources. They reassigned medical staff to direct therapy trials to work in a crisis-management "war room" and to assist in diagnostic labs. They established a "proning team" of nurses who turn ventilated patients to improve oxygenation. They recruited personnel to operate a makeshift morgue.
All the while, Christ's leaders also are addressing the emotional toll the crisis has taken on everyone. They don scrubs and tour the ICUs to comfort overwhelmed front-line providers and boost morale. They launched a "warm line" for traumatized staff to call. If an employee tests positive for the coronavirus and needs to take time off, management ensures they're appropriately paid.
Thanks to its proactive measures…