More Than 1,700 Nurses on Strike at Robert Wood Johnson University Hospital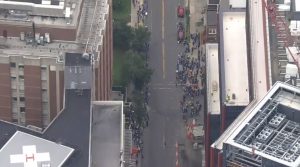 Nearly 2,000 nurses went on strike Friday morning at Robert Wood Johnson University Hospital in New Brunswick, New Jersey.
The union representing more than 1,700 nurses said it voted down a tentative agreement last week after months of failed contract negotiations. They walked off the job at 7 a.m.
The union says this is a not a step members take lightly, but they have reached a breaking point, with short staffing their top concern.
"We really want to hit home that nursing is in a crisis right now. People are leaving the bedside, and we need to encourage people to stay," Carol Tanzi told us Friday morning. "We need to make sure that the hospital understands where the dollar should go is to recruiting and retaining nursing."
Their most recent contract expired on June 13 following several months of bargaining. After they voted the current proposal down, the hospital was given a 10-day strike notice.
Members say they are concerned about rising health insurance costs, as well.
USW4-200 President Judy Danella said they will continue to wait it out until their demands are met, specifically in the number of staff nurses.
"We wanted more stability that if a nurse, say, in the middle of the shift needs something, that there would be somebody that they could send to help, or that's looked at in the beginning of the day to make sure that the staffing is appropriate," she said.
In a statement, the hospital said in part, "We remain willing and open to continue talking with the goal of averting a strike and reaching a fair and equitable resolution," adding it has accepted the union's demands twice.
The hospital said it has contracted an outside nursing agency to remain fully operational. This is the first nurses strike there since 2006.
(This article originally appeared on CBSNews.com)