Maui Wildfires 2023: How Nurses Can Help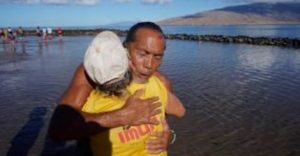 According to The Washington Post, Hawaii's Gov. Josh Green (D) has urged people to leave and stay away from Hawaii, explaining that the island cannot currently support anyone wanting to stay or live long-term.
He urged anyone who had plans to travel to the islands anytime soon to cancel their plans, to free up housing for emergency workers and displaced locals. The Washington Post also listed a few other ways that people can help with the Maui wildfires, recommended by either Green or verified by the outlet.
Volunteer with the Red Cross
The Red Cross is an excellent way to help directly with wildfire efforts. You can apply to be a volunteer on their site and the Red Cross will select and match volunteers to areas in need.
You can also apply to be part of the highest-priority efforts for Maui, which include positions with the disaster action team as well as blood donation teams. You can even volunteer to head up blood collection in an area local to you that will collect blood to send to patients in need.
Donate blood
Blood is always needed and a disaster will only increase that need, so find a local Red Cross blood donation near you to donate. You can even register with the blood donation app so you'll get notified when your blood is used on a real patient.
Help with patients—but not in Hawaii
While it may be tempting as a nurse to want to jump right into the thick of the action in Maui, the unfortunate reality is that a rush of volunteers or nurses may not be all that helpful to a place that's on fire. Instead, local healthcare workers explain that it's vital to get patients in need of care out of Maui, so hospitals that will be accepting transfers will be where help is needed—not necessarily in Maui itself.
Browse GoFundMes
The Washington Post included a list of verified GoFundMes, but you can also browse specific GoFundMes if you have something specific in mind to donate to. For instance, one fundraiser claims to be helping travel nurses who were displaced as a result of the fires.
You can donate a set or custom amount online or mail a check directly to the foundation. Currently, the HCF says it is prioritizing nonprofit organizations that are supporting community-based rapid response and recovery efforts.
"Funding will support evolving needs, including shelter, food, financial assistance, and other services as identified by our partners doing critical work on Maui," the Foundation explains.
This organization Maui families, elderly residents, individuals with disabilities, and people who have either no health insurance at all or limited coverage.
The Maui Relief Fund was started by Aloha United Way, a Honolulu-based nonprofit organization. It says all of its efforts are currently working towards helping fire victims.
The Salvation Army in Hawaii is accepting donations to provide meals for thousands displaced in Maui emergency shelters
Humans aren't the only ones affected by the fire and this organization is working towards helping burned and displaced pets. The Greater Good Charities' Disaster Response Team is actively sending cash grants, pet food, and supplies to impacted communities as well as working to provide solutions to aid in the island's long-term recovery.
The food bank is working to provide meals for displaced residents, which number in the thousands.
The local police department is accepting physical donations of nonperishable food, bottled water, hygiene items, and blankets to Maui's War Memorial Complex, but you can also donate directly to the PD online as well.
The Maui County Emergency Management Agency is active on Twitter with live updates about how people can help. It also posts resources for local people in need of help, such as an updated list of shelters with space and supplies.
(This story originally appeared Nurse.org.)
Click here for Maui Charity Event: Malama Maui Charity Event | Hawaii – American Nurses Association (Powered by Donorbox)