Long-Term Facility Nurse Recognition: Sherry Faulkner, RN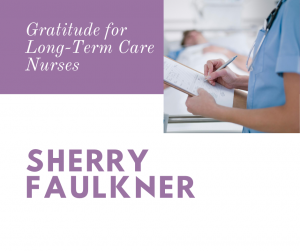 Sherry is the director of nursing at Shady Lane Home in Clarksboro, which is a 60-bed facility that, like many long-term facilities in New Jersey, has been working extremely hard to keep COVID-19 from impacting the resident population. To date, Shady Lane has kept its residents COVID-19 free!
I believe Shady Lane is one of the few, if not the only, long-term care facility in New Jersey that can claim that status! I feel this can be attributed to Sherry's vigilance and direction in demanding the utmost strict infectious control measures. She guides her dedicated staff to follow the mandated New Jersey State guidelines while exhibiting compassion for the residents who are isolated from their loved ones. Sherry maintains frequent communication with the residents' families, sometimes with daily updates on a family's loved one and she encourages her staff to do the same.
Sherry is passionate about her job and it truly shows when she speaks with families during their care conferences. She always wants the best for "her residents" and seeks solutions to solve any issue that may arise.