Laudio Snags $13M for Platform that Tackles Nurse Managers' Burnout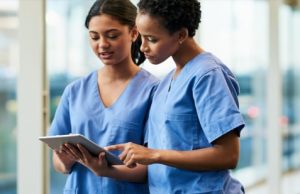 Health system executives agree that burnout and labor productivity are their foremost concerns. There are dozens of startups on the market that produce technology designed to mitigate these problems, but hospitals are still struggling to find the solutions that help them effectively optimize their staff members.
On Thursday, yet another software as a service (SaaS) company focused on alleviating healthcare's burnout and workforce crises announced the close of a fundraising round. Boston-based Laudio snagged $13 million in Series B funds.
The round, which brings Laudio's total funding to $25 million, was led by Define Ventures. Other participants included MemorialCare Innovation Fund, .406 Ventures, InHealth Ventures and TeleTracking Technologies.
Laudio was founded in 2016 with a mission to provide software that optimizes operations management for health systems, CEO Russ Richmond said in a recent interview.
Many health system leaders have found themself in an unending loop — the departure of employees results in a staffing emergency, forcing hospitals to spend more on expensive labor sources like travel nurses. This not only depletes a hospital's pool of workers but also subjects remaining staff members to immense stress and burnout.
"Healthcare work is and should be the most fulfilling work that anyone could ever do, but we're in the middle of a tremendous burnout crisis. When they show up every day, healthcare workers do not feel like they're doing the best work of their lives — they're inhibited by their burnout," Richmond declared.
His startup's platform seeks to automate frontline healthcare managers' administrative tasks, which are major contributors to burnout. These tasks include things like patient rounding, schedule making, and quality and safety checks.
The platform also gives frontline managers recommendations on how to better connect with their staff. For example, it helps them keep up with their employees' birthdays and service anniversaries to make sure team members feel seen and appreciated.
In Richmond's view, hospitals can't solve their burnout and turnover problems without focusing on better frontline management.
"What we've learned, and the science proves, is that the healthcare workforce attaches way more to their manager than they do to like their institution overall. Our vision was for a platform that would be a co-pilot for frontline managers," he explained.
Richmond argued that this focus on frontline managers is what separates Laudio from other SaaS companies focused on tackling healthcare's burnout crisis through automation.
Frontline nurse managers don't have automation tools that are specifically designed for their daily workflows, so Laudio stepped in to address that technology gap by giving them a platform bespoke for their needs, he declared.
"Systems might be buying very specific point solutions that do some of what we do. For example, they might be using something like the CipherHealth for patient rounding. They might be using an RLD expert for quality and safety auditing. They might be using Press Ganey for an engagement solution, and they might be using some of their existing infrastructure like Workday to do recognition or celebration," Richmond said.
Laudio eliminates the need for those one-off products by providing frontline nurse managers with an all-in-one platform to help them get through all of their daily administrative tasks more quickly, he declared.
With its Series B capital, Laudio is working to expand its customer base. The startup's platform is already used across more than 50 hospitals, including at UNC Health and Novant Health.
(This story originally appeared in Med City News.)