Knicks City Dancer Now Fighting on Frontlines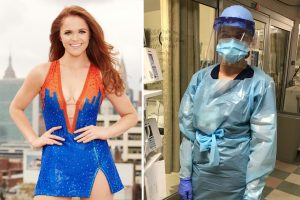 For many people globally the coronavirus pandemic seemed to turn the world upside down. For Tara Rappleyea it was time to stop the party and get in the trenches.
After the NBA's shutdown, which started March 11, the 27-year-old stopped dancing at Madison Square Garden in New York City with the Knicks City Dancers and went to her day job as an ICU nurse at Robert Wood Johnson University Hospital Somerset.
"It seemed like it happened overnight. Our unit went from regular patients to COVID," said Rappleyea who lives in South Amboy and became a registered nurse almost two years ago. Before all this, she logged three 12-hour overnight shifts per week; now, she is working around 60 hours a week.
Since the hospital has a no-visitors policy, she is not only caring for patients but also managing communication between them and their loved ones.
"I realize now more than ever how important it is for me to take a moment to be present and sit with my patients — especially because they can only see my eyes [because of protective gear worn by the staff] — and hold their hand and talk to them to give them a sense of comfort, safety and connection," she said.