Johns Hopkins Boosts 'Ethical Confidence' To Reduce Nurse Burnout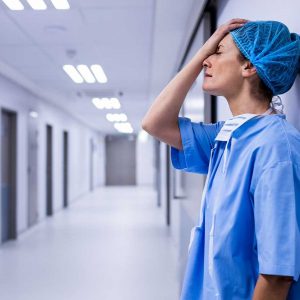 Hospital leaders already know nurses are leaving the bedside — and countless more are turning away from the profession — for myriad reasons. But do they really understand why?
Cynda Hylton Rushton, PhD, RN, the Anne and George L. Bunting Professor of Clinical Ethics at the Johns Hopkins University Berman Institute of Bioethics and School of Nursing in Baltimore, told Becker's the underlying causes of nurse burnout can't be completely fixed with flexible scheduling and programs to keep workplace violence at bay.
She said one meaningful solution lies in providing ways for nurses to more effectively manage the ethical dilemmas they face daily, noting one-time programs won't provide sustainable benefits. "Without targeted interventions to address the causes of moral suffering for nurses, the high levels of turnover will likely continue," Dr. Rushton said.
A study of the Mindful Ethical Practice and Resilience Academy, co-created by Dr. Rushton, showed a sustained level of moral resilience in the direct care nurses who participated, according to research published May 1 in American Journal of Critical Care.
MEPRA, which is held in six four-hour classes over 12 weeks, also positively affected the survey participants' mindfulness and resilience.
For the study, 245 direct care nurses went through the academy — reviewing case studies, participating in simulated training, having discussions and doing role play exercises as well as guided mindfulness sessions. The study was held at Johns Hopkins Hospital in Baltimore and Sibley Memorial Hospital in Washington, D.C.
"We found sustained improvements in moral competence, perceived ethical confidence, resilience, mindfulness, work engagement, burnout and emotional exhaustion," Dr. Rushton said, noting "experiential discovery learning is foundational to shifting nurses' responses to the inevitable ethical challenges that arise in their practice."
Editor's note: Responses have been edited for length and clarity.
Question: What is the Mindful Ethical Practice and Resilience Academy?
Dr. Cynda Hylton Rushton: MEPRA is designed as an individual and system strategy to create environments where nurses can reclaim their integrity and well-being. The budget of an organization reflects its priorities and values. Investing in the nursing workforce and dismantling the systemic contributors to their moral suffering will go a long way in healing the wounds of the pandemic and restoring nurses' commitment to their patients, their profession and themselves.
Importantly, it empowers them to be productive change agents in the continuous improvement of safety and care processes and shared governance structures that create resilient systems.
The value of having team members equipped to support mindful, ethical practice with moral resilience impacts everything they do. Care delivery involves the constant engagement in productive and shifting team relationships, the capacities to enable compassion and resilience with patients, and frequent navigation of ethical decisions to ensure the right care is delivered to all patients with respect and fairness.
These outcomes are enhanced when nurses have the skills to engage in this work with integrity, mindfulness and resilience.
Q: Why do nurses need formal ethics training? 
CR: The ethical issues in healthcare have exponentially expanded. They are part of everyday nursing practice; many nurses are not prepared to address them in ways that preserve their integrity and well-being. Experiential ethics education that provides lasting impact is key to nurses' well-being and to the health of the healthcare system. Without it, it will contribute to the high levels of turnover and exit from the profession — especially among newer nurses who are navigating these challenges for the first time.
Q: What is the downside for hospitals of not investing in programs like MEPRA? 
CR: Failing to invest in nurses' well-being, defined in broad terms to include the capacity and skill to engage in mindful, ethical practices and discussions, undermines all other investments in patient safety structures and other organizational priorities. The healthcare system cannot thrive without a healthy workforce.
Organizational leaders are poised to demonstrate their commitment by shifting organizational practices that allow nurses to gain the skills they need and in ways that are meaningful to them. Now is the time to allocate resources to implement evidence-based and effective programs to demonstrate that leaders understand the sacrifices that nurses are making and to restore the trust that was eroded during the pandemic.
(This story originally appeared in Beckers Hospital Review.)