Institute for Nursing Announces 5 C.A.R.E.S. Winners for Nursing Excellence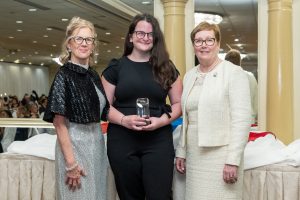 The New Jersey State Nurses Association's foundation—the Institute for Nursing—announced today its C.A.R.E.S. Awards for Nursing Excellence.
The prestigious award is based on five categories that spell out the award: C – Clinical Practice; A – Administration; R – Research; E – Education; and S – Support.
"Their commitment to nursing and health care through the care of people is a tribute to our professional founders and an inspiration to the next generation of nurses," said NJSNA President Sandra Foley, DNP, MSN, RN. "Today's award winners are the next class of leaders in our profession."
Here are the 2023 C.A.R.E.S. award winners who go above and beyond to serve New Jersey's health care community:
Clinical
Stephanie Esposito is a board-certified critical care nurse at Raritan Bay Medical Center, who is pursuing the MSN in Adult-Gerontology Nurse Practitioner. She looks for ways to create a positive impact. When the ICU census went down post-pandemic, she was the first to volunteer to be cross trained in cardiac catheterization lab and interventional radiology to alleviate the burden of overworked staff in other units. She volunteered to go on medical missions in Hungary and Jordan and continues to serve the Colts Neck community church as a youth leader and Sunday School teacher. She volunteered to research and document a submission to American Association of Critical Care Nurse's Gold Level Beacon award, which will be presented at the national conference this month. As an innovator, she created the "Little Star" initiative, which stems from the hospital's practice of playing "Twinkle, Twinkle Little Star" overhead when a baby is born. The initiative involves the maternity educator to attend ICU unit huddles and advise on the needs of critically ill maternity patients.
"Stephanie is every nurse leader's dream as an employee," wrote Kimberly Oquendo in her nomination. "Stephanie is unstoppable; she is the future of nursing."
Administration
Dr. Christiam Fajardo is the nurse manager of the coronary care unit/cardio Dash thoracic recovery unit at St. Joseph's Health, and also the current director of magnet, quality, practice and research. He is an adjunct professor at William Paterson University, focused on helping nurses develop their critical thinking skills. A CCRN- and NVRN-certified nurse and a doctor of nursing practice, he is Resolutions Committee Chair of American Nurses Association's Region 2 Chapter. He has published an article on leadership and how to implement strategies to mitigate stress related to nursing burnout in the AACN Journal. Dr. Fajardo was also able to use research and knowledge gained in the program to look at developing an internal succession planning program within Saint Joseph Health. He developed the program through his partnership with other departments, including Human Resources and Executive Leadership. He is passionate and committed to improving practice and the nursing work environment. His research and advocacy interest include prevention of workplace violence towards nurses, and he has work closely with executive nursing administration to improve nursing recruitment and retention in hospitals as part of the Healthy Work Environment Initiative through the New Jersey Hospital Association.
"Christiam is a true soul and transformational leader focused on enhancing the workplace environment and creating better patient outcomes while evolving nurse practice utilizing evidence-based practice," wrote Varsha Singh in Fajardo's nomination. "He is a role model for many men in nursing."
Research
Dr. Jill Cox's research has been disseminated nationally and internationally in more than 25 peer-reviewed publications. As a renowned national speaker on pressure injuries, her research interests include pressure injury, risk detection and pressure-injury prevention in the hospitalized patient population with a specific focus on pressure, ulcers and critical care patients. "Predictors of Pressure Ulcers in Adult Critical Care Patients," a 2011 article based on her dissertation work, was published in the American Journal of Critical Care, and it is among the most frequently cited articles in the journal's history. The research was conducted at Englewood health where Dr. Cox now serves as chair of the evidence-based Practice in Research Council. In 2020, Dr. Cox was a contributing author on the National Pressure Injury Prevention's publication, Pressure Injury Prevention – PIP Tips for Prone Positioning.
"Dr. Jill Cox can be described as a renowned researcher, publisher, author, a mentor, professor, a caregiver and an industry leader," wrote Brenda Holland in Cox's nomination, "but if you ask her to describe herself, she'll tell you that first and foremost, she is a nurse. Thanks, in part, to her extensive clinical experience in the management of various types of wounds and ostomy-related complications, Dr. Cox is able to offer her patients, and their families, relief from cumbersome symptoms and an improved quality of life."
Education
Dr. Mary Jane Genuino, who currently works as an assistant professor at Felician University, was recently nominated by one of her students for the New Jersey League for nursing's inaugural Daisy award for clinical educators. She has also received the New Jersey League for Nursing's recognition award for her unwavering support to her profession.
Dr. Genuino was instrumental in the approval of the PN to BSN program for Eastwood College. She officially consulted and assisted in the self-study and curriculum development for the program, which is currently in great need as more bachelors prepared. She emphasizes the importance of critical thinking and clinical reasoning. She also contributed and edited a chapter in the fifth edition of the publication, Critical Care – Nursing Made Incredibly Easy.
She is an immediate past president of NJSNA Region 2 and co-chair of the Philippine Nurses Association's education committee.
After losing her husband to COVID-19 complications, Dr. Genuino started a support group for widowed nurses.
"Dr. Genuino embodies strength, resilience and adaptability," wrote Teresita Medina as part of her nomination.
Support
Margaret Valenti is the nurse manager of the oncology unit and outpatient infusion unit at Hackensack Meridian Riverview Medical Center. She leads by example, innovates programs based on patient experience and mentors registered nurses. She has also led various nurse initiatives to improve the care of oncology patients. An example of her initiatives includes increasing a nurse's knowledge of the signs and symptoms of death and dying and creating interventions that will support families during this difficult time. Valenti recently initiated a nurse mentorship program at Riverview. She is currently a candidate for the Doctor of Nursing practice program at Monmouth University.
"Margaret embodies the five Cs at Hackensack Meridian Health," writes Juvy Montecalvo-Acosta in Valenti's nomination. "She continues to inspire her team to provide evidence-based care and using research to assure patients at Riverview Medical Center receive the latest proven care models."
Special Award
Wayne Hall, an executive manager of Garden State Honda, was the catalyst for the creation of a successful partnership between the Institute for Nursing and Garden State Honda. Highlights of the partnership include a 2021 raffle for a Honda CR – V vehicle that was attended by many local dignitaries from both organizations, including Clifton Mayor James A. Anzaldi. Hall and his management team's kindness and altruistic philanthropy did not stop there. They provided the gold-level monetary donation that contributed to the purchase of the Healthy Nurse Healthy New Jersey Unity Walk T-shirts.
The Institute for Nursing also recognized a full slate of honorable mentions, including Gregory Zanone (Clinical), Dawn Mutchko (Administration), Brenda Marshall (Research), Amita Avadhani (Education) and Michelle Monney (Support).
About IFN
The Institute for Nursing (IFN) was founded in 1988 as the charitable affiliate of the New Jersey State Nurses Association (NJSNA). The purpose was to have a mechanism to receive contributions to provide scholarships, research grants and to increase education programs. The institute complements the work of NJSNA, the largest nursing organization in the state, by raising funds and developing and managing grants to support advances in research, education and clinical practice. Through NJSNA's network of member associations and their individual members, the IFN's programs benefit nurses and the communities where nurses practice. The goals of the institute are achieved by raising funds, along with developing and managing grants to support its mission. For more information about supporting IFN, click here.
About NJSNA
NJSNA, established in 1901, is a constituent member of the American Nurses Association. The NJSNA represents the interests of more than 173,000 registered nurses and advanced practice nurses as an advocate for the nursing profession. NJSNA's lobbying arm continues to protect the nursing profession through legislative victories. Its nonprofit foundation, the Institute For Nursing, helps nurses further their careers by providing continuing education, scholarships and research grants, in addition to invaluable networking opportunities. For more information, visit www.njsna.org, contact NJSNA at njsna@njsna.org, or call 609-883-5335.