In the Spotlight: Icleda Jenkins
Icleda has humbly, lovingly and purposefully provided care as a nurse in LTC and subacute settings for 20+ years as a staff nurse, manager, supervisor and as an aid when necessary. The COVID crisis was no different. She was a present help and support to her unit staff as well as the sister units in her facility and the family members of every resident under her care.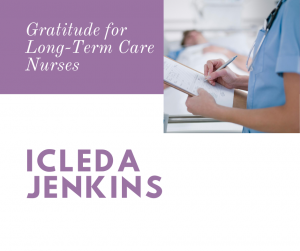 Despite losing her own mother during the height of the crisis in New Jersey, through prayer, she still managed to be there for those same families and their loved ones who lived at the LTC center and helped lead her unit and assist others in creating and maintaining the safest environment possible in a time of uncertainty and she did it with her whole heart.