How To Prevent Workplace Violence for Nurses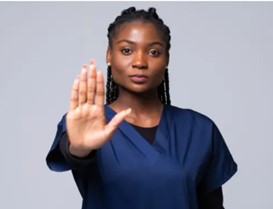 The stress and isolation caused by the COVID-19 pandemic has exacerbated violence in our society. In January 2022, The Joint Commission published new requirements that support workplace violence prevention. Our previous survey process evaluated workplace violence primarily through existing environmental safety standards, but with an increase in workplace violence incidents, The Joint Commission felt that procedure was insufficient. Recent data show that healthcare workers are four times more likely to experience workplace violence than non-healthcare workers. Workplace violence also has been identified as a contributing factor to staff burnout and nurses leaving the profession, and it's always presented a patient safety issue. These findings and the recent tragic events in Texas and North Carolina further illustrate the point.
The Joint Commission's new workplace violence prevention requirements include three new and two revised elements of performance. The R3 Report Issue 30: Workplace Violence Prevention Standards (bit.ly/3hyE1BG) thoroughly explains new and revised elements, which provide healthcare organizations with a structure for accountability, evaluation, and response to workplace violence events. Highlights include the following:
Conduct annual worksite analyses that help identify vulnerabilities within the hospital campus (dead-end corridors, inadequate lighting, multiple or uncontrolled building access points).
Take action to mitigate or abate issues identified in the analysis.
Collect and analyze information about workplace violence obtained through incident reporting.
Act on trends and opportunities for improvement as identified via reporting and information analyses.
Provide staff with training and education on the organization's workplace violence prevention program (when hired, annually, and when significant program changes occur).
Include prevention, recognition, response, and reporting of workplace violence during training.
Create programs developed by a multidisciplinary team and led by one designated expert.
Report incidents of workplace violence to the organization's governing body.
Workplace violence standards have successfully provided healthcare organizations with a starting point to evaluate their vulnerabilities and subsequently take action to create safer environments for patients, visitors, and staff. In fact, most healthcare organizations currently meet the new workplace violence standards.
However, some organizations struggle with the worksite analysis requirement. They frequently fall short by failing to conduct a complete analysis or neglecting to implement needed improvements. The Joint Commission offers valuable workplace violence prevention resources (bit.ly/3EcFfdu) to help healthcare organizations successfully complete a worksite analysis and other workplace violence requirements.
I hope that by evaluating our worksites, analyzing data on reported incidents and risks, and providing education and other needed resourc­es, we can decrease workplace violence within healthcare—a safety risk for all of us.
Lisa DiBlasi Moorehead is the leader of the Psychiatric Hospital Accreditation Program at The Joint Commission in Oakbrook Terrace, Illinois. She previously served as the associate nurse executive.
(This story originally appeared on My American Nurse.)