How to Build Healthy Habits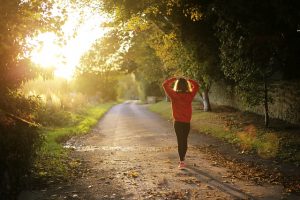 Earlier this month, we learned from Healthy Nurse, Healthy New Jersey (HNHNJ) team member Terri-Ann Kelly several ways to build a healthy habit. A few important takeaways from her message are that a healthy habit should be enjoyable so you'll be determined to stick with it and make sure your healthy habit is a priority in your life.
My favorite regimented mode of physical exercise is walking on my treadmill. I usually plan to walk no less than one mile in 20 minutes, but I often wind up walking longer than 30 minutes. This is a fun habit for me, and it's a healthy way to incorporate physical exercise into my life. My inspiration and treat for doing this type of activity is to watch my TV shows or movies while I'm walking. I will only watch these shows while I'm on the treadmill; this is my motivator. There are times when I will listen to music, audiobooks or podcasts instead of watching TV. It doesn't matter what source of entertainment I'm engaged in; I'm motivated to keep on walking especially if I'm curious to watch one more scene, listen to one more chapter or one more song. I always feel great afterward, and because I find this physical activity enjoyable, I am committed to it!
According to the American Heart Association (AHA), walking is a legitimate form of exercise with tremendous health benefits. Not only does is it help you get physically fit, but it also improves your emotional well-being.
Here is AHA's article entitled, Why is Walking the Most Popular Form of Exercise?
And this article, 10 Amazing Health Benefits of Walking 30 Minutes a Day, According to Doctors from Prevention magazine, also touts the benefits of a walking regimen.
Walking is my favorite form of physical exercise, so it is my sustainable healthy habit. Why don't you try it?
Join other Healthy New Jersey Nurses and me on our Walk to End Alzheimer's on Sept. 22 in Succasunna and/or on our Light the Night walk on Oct. 5 in Cherry Hill.
Exercising with a group of likeminded people such as New Jersey nurses is healthy for your mind, body and spirit, especially if you're walking for a cause. I expect these events to be lots of fun!
Any New Jersey nurse who joins us for one of these walks will receive a New Jersey Healthy Nurse t-shirt.
If you aren't able to join us for either walk, please consider donating through our team pages:
Happy Trails to you, Healthy Nurses!
Sincerely,
Tracey Jaworski-Lucas, BSN, RN, HNHNJ team leader and the Healthy Nurse, Healthy New Jersey Team