How Did 2,800 Nurses With Fake Degrees Pass The NCLEX?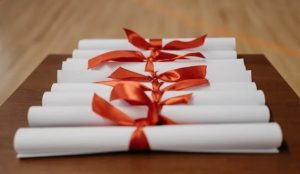 The dust is settling on the national nursing degree scheme, but many questions still linger, with the most pressing being: Who are these nurses, and where are they practicing? As investigations continue and disciplinary actions are taken, another intriguing question has emerged: How were so many nurses able to pass the National Council Licensure Examination?
Through the scheme, aspiring nurses allegedly paid between $10,000 and $15,000 for fake nursing degrees and transcripts, which allowed them to qualify for the NCLEX without completing the necessary coursework and training required to sit for the test.
About 2,800 people — or 37 percent of those who bought fake documents — passed the test, according to Omar Pérez Aybar, special agent in charge for the Miami region of HHS' Office of Inspector General. A "significant number" went on to gain licensure and secure employment at U.S. healthcare facilities, he told The New York Times in January.
"It is a bit of a surprise," Felicia Sadler, MJ, BSN, RN, vice president of quality at Relias, an approved provider of continuing education for U.S. licensing boards, told Becker's. "In the world of academia, we go through a very rigorous process from an academic standpoint, as well as our clinicals, when we work towards those diplomas and degrees."
Many individuals who purchased fake nursing degrees had prior experience working in healthcare as certified nursing assistants or other positions, federal officials said, which may help explain the high pass rate. Test-takers may also have been internationally trained or educated nurses, according to David Benton, PhD, RN, CEO of the National Council of State Boards of Nursing.
"The NCLEX fundamentally assesses the level of a person's nursing knowledge, skills and abilities. It is a gold standard testing methodology that has been proven to be effective and reliable based on decades of data," Dr. Benton said in a statement to Becker's. "The NCLEX is designed to focus on public safety by measuring nursing ability currently required to practice competently at the entry level. It does not measure or assess whether an individual completed an education program or retained particular knowledge from their education program."
In April, the NCSBN is slated to release its next-generation NCLEX designed to better measure test-takers' clinical judgment and decision-making. The organization is also looking into higher-end technologies to improve exam and nursing regulatory body practices, Dr. Benton said.
(This story originally appeared in Becker's Hospital Review.)