Honoring Heroic N.J. Nurses in the Pandemic: University Faculty & Students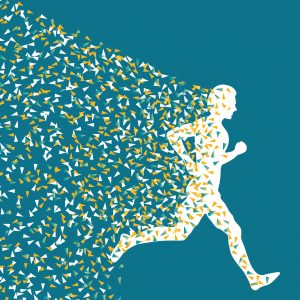 NJSNA Region 1 members, Sandy Foley, DNP,
RN and Kim Dimino, DNP, RN, CCRN report
on how the nursing faculty and students at William
Paterson University demonstrated perseverance and
resiliency as they pivoted to online classes during the
height of the COVID-19 pandemic. During spring
break, the administration informed faculty at William
Paterson University and all Colleges that classes needed
to be transferred to online. The Department of Nursing
sprang into action once this message was relayed
because it's no small feat for all nursing classes to meet
remotely.
Dr. Leo Jurado, the chair of the Department
of Nursing, along with the nursing faculty knew they
had to act quickly and make decisions they never
thought they would have to make. What was this new
online academic model going to look like? How were
the nursing students going to experience clinical rounds
without a physical building? Which platform should
we use to hold virtual classes? How will faculty quickly
change their physical classroom to a virtual one, while
ensuring students remain engaged? These are just a
few of the questions that needed to be dealt with.
Perhaps their biggest concern was the BSN senior
class who were set to graduate in May. Exams,
med/surg and pediatric clinicals, traditional classes,
PowerPoint presentations, and more must go on.
What would the pinning ceremony look like? Senior
year for nursing students is normally filled with so
much fanfare.
Graduation will look different this year,
but we are committed to creating as much fanfare
as possible. During the week of spring break, as the
students were told not to travel due to the spread of
the coronavirus, the nursing faculty pooled together
their resources to ensure all online classes would meet
CCNE standards.
Still, the senior graduating students
were rightfully concerned about the fulfillment of their
clinical hours to ensure graduation. We had a plan for
that too.
By the end of that week and the first day of
classes had rolled around, faculty were ready to begin
online classes. With time, students and faculty alike
began to adjust to the new online classroom.