Green-Card Backlog Fuels Shortage of Nurses at Hospitals, Nursing Homes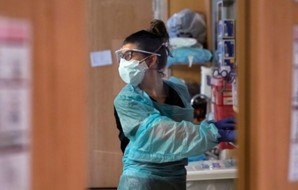 Foreign nurses can't get green cards to work in the U.S., alarming hospitals, nursing homes and other medical providers who have relied on them to help alleviate staffing shortages.
Some nursing-home associations say facilities already operating on thin margins could be forced to close or be unable to accept seniors transitioning to care following hospitalizations. Hospitals say the shortage triggered by the backlog could undermine patient care.
Foreign nurses are important to the medical industry. Hospitals, nursing homes and home health-aide companies were contending with a severe staffing crisis even before the Covid-19 pandemic, when companies often supplemented full-time domestic nursing hires with traveling nurses and a small pool of international recruits, typically from the Philippines or Jamaica. After the pandemic, those hires became even more crucial.
The pandemic strained health systems and led to about 100,000 registered nurses leaving the workforce during the past two years due to retirements, stress and burnout, according to a study released in April by the National Council of State Boards of Nursing. More than 600,000 additional nurses reported that they intended to leave by 2027.
Eighty-four percent of nursing homes are facing moderate to high levels of staffing shortages, according to a January survey of 524 nursing-home providers by the American Health Care Association.
"There are a lot of consequences we're dealing with," said Clif Porter, senior vice president of government relations at the American Health Care Association and the National Center for Assisted Living, a federation that represents nursing homes, assisted living communities and facilities for people with disabilities. "We are already down 190,000 hands-on staff compared with where we stood prepandemic. We're seeing facilities closing in rural areas."
Recruiting nurses from abroad has come to a halt because the type of green card that healthcare institutions use to hire nurses has become so oversubscribed that the State Department this month stopped processing applications from anyone who applied after February 2022. Each year, the government reserves roughly 40,000 of such green cards, known as EB-3 visas, for immigrants and their families being sponsored by employers—though the healthcare industry must compete with companies in other sectors, such as tech and finance, for the limited pool.
Healthcare institutions are particularly squeezed by the immigration system because, unlike most other professions, nurses and nursing aides aren't eligible for temporary work visas such as the H-1B. Tech companies are able to hire employees on temporary visas while they wait in the green-card queue—often for years—but hospitals and nursing homes can't bring over employees at all until a green card becomes available.
A bipartisan bill has been introduced in Congress, led by Sen. Thom Tillis (R., N.C.), that would reclaim unused green cards from previous years to bring over more foreign nurses. But the bill has stalled, caught up in the broader politics of the southern border, with many Republicans unwilling to sign on to any increase in legal immigration until a bill tightening border security is first passed.
Paula Butts, chief nursing officer for patient-care services at Piedmont Henry Hospital in Stockbridge, Ga., said that the 14 international nurses she had in the pipeline to come are now in limbo, as are the additional nurses she had requested through an international nursing-staffing agency.
"Because of the situation, I'm unable to get more," Butts said. "We can't get them here. It means our patients suffer because we can't provide the care they need."
Hospitals say they are also trying to alleviate the shortage by focusing on retaining nurses with higher salaries and benefits, as well as investing to expand nursing programs at colleges and universities. Registered nurses saw their average hourly rate rise 11.1% to $34.58 from 2021 to 2022, according to a survey by LeadingAge and the American Health Care Association.
Still, some nursing associations and unions oppose the overreliance on international recruiting, arguing that more trained nurses who have left the profession would return if employers paid better.
The nurse shortages have raised concerns that nursing homes won't be able to comply with a soon-to-be released federal proposal from the Centers for Medicare and Medicaid Services setting minimum-staffing mandates. Some nursing homes in rural areas have been forced to close in part because of staffing shortages.
Erica DeBoer, senior vice president and chief nursing officer at Sanford Health, a network of hospitals in the upper Midwest, said because of the green-card freeze, 200 foreign nurses who were scheduled to begin work this year at rural hospitals across the network won't arrive until at least next year.
Meanwhile, DeBoer said, the network is being forced to hire traveling nurses—who are more expensive—to ensure it can maintain care at some of its smaller hospitals in rural communities, which typically have fewer than 25 beds.
"It's devastating for us, especially in some of our smaller communities," she said.
(This story originally appeared in the Wall Street Journal.)