Got Blood? We Really Need It Now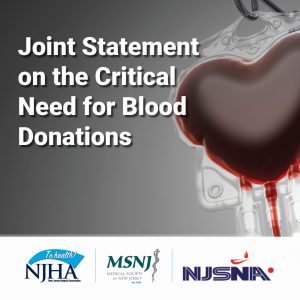 New Jersey's hospitals and clinicians rely on donated blood every single day – for cancer patients, for accident victims, for people suffering from illnesses like sickle cell disease and for women in childbirth. Each year, the nation's healthcare providers treat 5 million people with blood donations.
But today, we find ourselves in the grip of an historic blood shortage. The pandemic has driven blood supplies to unprecedented lows. Key sources of blood donations like workplace and campus blood drives have been disrupted during the pandemic. In addition, blood collection centers are impacted by the staffing shortages all across healthcare.
Throughout this pandemic, our healthcare teams have been tenacious and tireless in caring for their patients. But the blood shortage poses yet another challenge in their heroic work to save lives.
Giving blood is safe, and blood centers have stringent precautions in place during the pandemic. Please give if you are able. The need is critical right now. But if you can't get to a blood donation appointment today, or this week, know that the demand for this life-saving gift never ceases. Any time is the right time to help others by giving blood.
Cathy Bennett, President and CEO, New Jersey Hospital Association
Kennedy Ganti, MD, President, Medical Society of N.J.
Mary Ellen Levine, RN, President, N.J. State Nurses Association