From High School Dropout to DNP Student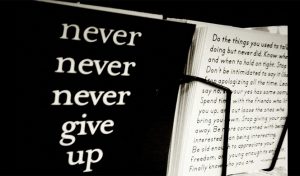 Over the course of my entire life, I seldom believed in myself. I thought I was stupid. I swore I would never return to school. And when I did, I never thought I'd become a nurse. But I always kept going. I would tell myself, "I don't know how I'm going to do this, but I will find a way." When I changed my thinking, I changed my life.
I had known I wanted to be a nurse since I was a child. I used to wrap my stuffed animals, friends, and family in bandages and always tried to help others. But getting there wasn't easy.
I had a hard upbringing with a single mom and a father who was a refugee from the Czech Republic. My father had struggles of his own, so it wasn't surprising when he disappeared from my life completely when I was in my early 20s. And during my teenage years, my relationship with him caused me a lot of distress.
I dropped out of high school during my sophomore year, leaving my family disappointed and not very hopeful.
I was asked to leave my home, so I started living with a friend to get by. But after couch surfing for a few years, I learned that friendly handouts and hospitality are not enough to sustain a life, so I applied to college.
I was emancipated at 17 and earned my GED, so I was legally allowed to admit myself to a local university in New Mexico. That's when I decided to pursue nursing. But my inner turmoil and the lack of support from my family drained my motivation to complete my degree, and I dropped out.