Free Webinar: Healthy You in 2020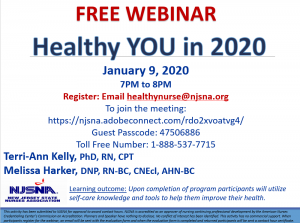 Join us for a free webinar, "Healthy You in 2020," from 7-8 p.m. on Jan. 9, 2020. Participants will learn about tools and self-care techniques to help improve their health.
Register to attend by emailing healthynurse@njsna.org.
Join the meeting at njsna.adobeconnect.com/rdo2xvoatvg4 with the guess passcode 47506886.
The toll free number to call is 1-888-537-7715.