NJ Sharing Network 5k Celebration
NJ Sharing Network 5k Celebration
There is still time to join Region 3 at the NJ Sharing Network 5K Celebration Sunday June 11. Please note, The NJ Sharing Network is actively monitoring statewide air quality alerts and guidelines. Please check their website, facebook page, and emails for updates as to how and if the event will move forward. Our utmost priority is your safety and wellbeing. Please take all precautions to remain safe during this time. The walk begins at 10am, so we plan to arrive around 9:30am. Please let me or Dr. Lois Greene know when you arrive so we can tell you where to meet. Anyone who would like to participate in the race or festivities earlier in the day are more than welcome. We will walk under Dr. Shanda Johnson's team Johnson Bee Strong. Dr. Johnson is a Region 3 Union County Member-At-Large and a long-time supporter of this amazing organization. The NJ Sharing Nerwork is a 501 (c)(3) non-profit that recovers and donates organs and tissue, supports donor families, honors the legacy of those who gave the gift of life, and raises awareness about the power of organ donation and transplantation.
To register, please click: http://events.njsharingnetwork.org/site/TR/Events/20235k/1836460816?pg=team&fr_id=1190&team_id=7470.
If you are not able to walk but would still like to donate, click Dr. Johnson's name on the roster.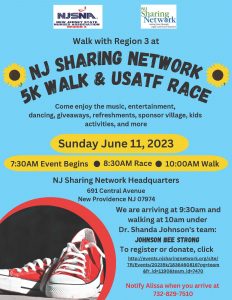 Related Events