ER Nurses Marry After Falling in Love During Pandemic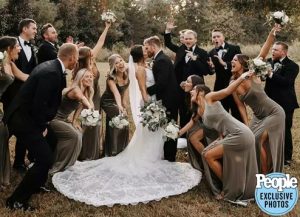 When Jacob Young surprised Kelsey Dunlap with a marriage proposal on Oct. 15, 2021, a medical helicopter touched down on the roof of the hospital where both ER nurses work, and then Jacob jumped out with a ring. The extraordinary moment went viral on TikTok, garnering over 2.7 million views.
Exactly a year later, on Saturday, the couple married at Vinewood Stables in Newnan, Georgia — and PEOPLE has the exclusive wedding photos.
The fête began with an outdoor ceremony led by the groom's brother, Christian Young. About 110 close friends and family looked on as teary-eyed Kelsey, 25, and Jacob, 29, exchanged vows while holding hands beneath the canopy of a 200-year-old pecan tree.
"It felt like a lifetime coming," says Kelsey, who wore a lace, beaded gown with a full train and cathedral veil. "Saying 'I do' was the easiest two words to come out of our mouths."
When Jacob — who played football in high school and starred in the school's production of Jacob and the Technicolor Dreamcoat — decided to propose, he had to do something memorable and big.
"I knew it was going to be a very special day, I wanted a shock factor," he says. "I didn't want it to be just something that the average Joe did."
With help from hospital colleagues, Jacob arranged to board a hospital helicopter and land on the roof.
Kelsey, meanwhile, thought she was picking up a patient as she wheeled a stretcher to the helicopter. But then Jacob popped out from behind the chopper, got on a knee and proposed.
Kelsey immediately said yes, and their hugs and kisses — met with cheers from the hospital staff — quickly won countless hearts online.
"It was really nice to get to have a lot of positivity around it and feel the support from all of our friends and family and then strangers saying it is so magical. It fills their heart, and they're crying," says Kelsey. "It just makes you feel like a romance novel — I really don't know how else to put it."
But their happy ending isn't one Kelsey could have seen coming. "I never pictured being so obnoxiously happy and in a relationship," Kelsey says. "It's something that you don't really think exists until you have it. And it just makes you feel so lucky and blessed."
Jacob also can't believe his good fortune. "I am overjoyed to scream to the world that you are the love of my life," Jacob read aloud to Kelsey before their wedding. "I am so proud that for the rest of my life I get to call you my love, mother of our children, my wife, and most of all, my best friend."
(This story originally appeared in PEOPLE.)