Empowering Nurses to Improve Health Care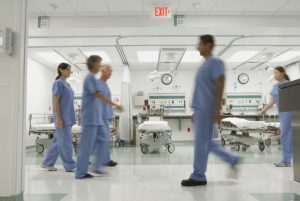 Amid this turmoil, there's been a quieter movement underway, driven largely by nursing schools, advocacy organizations, and foundations, to recognize and reward nurses' contributions and empower them to use their problem-solving skills and empathy for patients to design solutions to the problems that plague health care. This issue of Transforming Care looks at the fruits of these efforts.
Sparking Ideas and Developing Leaders: Johnson & Johnson
In 2018, Johnson & Johnson, which has a long history of supporting nurses through scholarships, grants, and training, launched the Johnson & Johnson Nurses Innovate QuickFire Challenge series as a way to solicit and support nurses' ideas for improving health care. Each challenge has focused on a particular topic: maternal and newborn care, oncology care, COVID treatment, mental health care, and other areas. "We knew from our research that nurses had amazing ideas, but did not have a clear pathway for raising those ideas and moving them forward," says Lynda Benton, senior director of global community impact at Johnson & Johnson. The QuickFire Challenge gives nurses an opportunity to shape and pitch their ideas; awardees receive grants of up to $100,000, plus mentorship from the company's experts.
Erin Athey, D.N.P., F.N.P.-B.C., was one of two winners for the challenge calling for ideas that expand access to care. She pitched a concierge model of primary care for residents of Ward 8, which includes some of the poorest neighborhoods of Washington, D.C. The idea grew out of Athey's experience in a local primary care clinic, where half of her patients routinely didn't turn up for appointments. "This nine to five, Monday through Friday, take off work, bring your kids model of care doesn't work for people struggling to pay their bills and take care of their families," she says.
The company Athey founded, C3: Community Concierge Care, is partnering with the District of Columbia Housing Authority to embed primary care clinics in four public housing sites, each serving from 500 to 800 residents. While a federal program supports some community health centers located in or near public housing, she says there are few such centers in D.C. Her plan is to have public health nurses and community health workers on site and have nurse practitioners available for telehealth or in-person visits.
Athey is partnering with the public housing resident navigators and councils to hear from residents about what they want, including things like same-day appointments and after-hours call lines. She also plans to partner with the social service organizations that are already working in public housing to help meet residents' needs for food or other supports. "We're trying to get the most hard-to-reach folks, right? So, how do you build that trust?" she says. "Just to be able to ask people are you OK? Do you need anything? If we can be that presence, I think that's going to be big."
The Johnson & Johnson Nurse Innovation Fellowship, a two-year program, provides 12 nurses with training and mentoring as they develop a capstone project. One of the fellows, Deidra Heuring, D.N.P., R.N., a staff nurse at St. Cloud Hospital in Minnesota, is using the fellowship to further her goal of increasing awareness of perinatal mental health disorders in parents. These disorders can occur from the time of conception to one year postpartum and may include mood disorders such as depression, bipolar disorder, and postpartum psychosis or anxiety disorders including panic disorders, obsessive compulsive disorder, and post-traumatic stress disorder. Such problems can be common, yet many of those who screen positive for problems don't receive treatment.
Heuring said she often saw parents struggling in the neonatal intensive care unit, but the issue hit home when her sister needed support after the birth of her third child. "I was grateful that my sister lived in the Chicago area, where she had access to an intensive outpatient program for mothers and babies," she says. Such specialized programs aren't accessible in many rural communities, and Heuring heard stories from fellow nurses who struggled to find help: "If a nurse has difficulty accessing care, I can't imagine what's happening to moms in rural communities, or to those who don't speak English."
As part of the fellowship, Heuring partnered with the nonprofit Postpartum Support International to work toward national accreditation of their perinatal mental health certification program. This would create funding streams for nurses and other clinicians to receive training, since most health care organizations cover staff members' continuing education when it's in pursuit of an accredited certification. "If more nurses get certified there will be more touchpoints for patients — one more person looking out for them who can say, 'You know, there's this great phone line that is free and has Somali or Spanish speakers,'" she says. "There will be more people to say, 'We can help.'"
Cultivating Scholars and Entrepreneurs: Betty Irene Moore Fellowship
Philanthropist Betty Irene Moore is another major supporter of nurses, an interest that developed from having experienced a near-deadly medication error during a hospital stay. Moore knew that nurses provide the lion's share of hands-on care and wanted to empower them to solve safety and quality problems. In 2020, the Gordon and Betty Moore Foundation committed $37.5 million for the Betty Irene Moore Fellowship for Nurse Leaders and Innovators, awarded to early and mid-career nurse researchers and entrepreneurs to help them develop a research project. Applicants must have some preliminary data about the impact of their fellowship project; winners are given $450,000 over three years and offered training on topics such as leadership, systems change, and effective communication.
"Mrs. Moore realized that if nurses had, first of all, more power in the system and came at problem solving with a systems engineering perspective rather than one encounter at a time, then the entire health care system could be transformed," says Heather Young, Ph.D., R.N., a professor at the UC Davis School of Nursing and national director of the fellowship program.
Dawn Aycock, Ph.D., M.S.N., associate professor at Georgia State University's School of Nursing and one of the first Moore fellows, is using the funds and training to advance her work to prevent strokes among young Black men and women ages 20 to 35. Black people tend to have strokes at younger ages than people of other races and ethnicities, and these strokes can be more disabling and deadly. The majority of strokes can be prevented by reducing risks such as high blood pressure, obesity, and smoking. Aycock's interest in this topic grew from her experiences caring for patients recovering from strokes and her family history: four of her relatives had strokes, including a grandmother who died and an uncle who afterward lived with paralysis on one side of his body and aphasia. "It was really sad because he had just retired and he had worked so hard to put all of his kids through college," she says. "He wasn't really able to enjoy his family afterwards."
In 2014, Aycock created SCORRE (Stroke COunseling for Risk REduction), a program that raises people's awareness about their personal risk factors for stroke and helps them reduce their risks by eating better, exercising more, or making other changes. Participants receive counseling during their first visit and motivational texts over eight weeks. In a trial of SCORRE, Aycock found that even though Black men tended to have more risk factors than Black women, they believed they were at lower risk and were less likely to make changes to minimize risk.
Through the Moore fellowship, Aycock is finetuning SCORRE to better engage young Black men. She conducted focus groups to learn how SCORRE could best educate and empower them. She's also been partnering with a graduate research assistant, a young, Black male nurse who's been recruiting peers to take part in the study. "He's gone to barbershops and community centers and talked with people about the research," says Aycock. "He also went to some of the barbershops that had helped with recruitment to offer blood pressure screenings as a way of giving back."
Another Moore fellow, Stephanie Gilbertson-White, Ph.D., A.P.R.N., at the University of Iowa College of Nursing, became interested in how to help people with metastatic cancer and other debilitating conditions manage their symptoms. This led her to become a palliative care nurse at the University of Iowa's cancer center and to create a mobile app known as OASIS (Oncology Associated Symptoms and Individualized Strategies). Patients can use OASIS to track their symptoms, find strategies to manage them, and connect with peers. It's built on a database including records from 20,000 cancer patients that enables users to enter their diagnoses and demographic information and explore the experiences of others like them. The goal is to empower patients. "So it's not the oncologist who's saying, 'We need to manage your fevers and hydration' — the things that impact their ability to provide chemotherapy," Gilbertson-White says. "It's really the individual saying, 'My biggest challenge right now is managing my fatigue.'"
The fellowship has helped Gilbertson-White develop a marketing and business plan to launch the app, which she'll do in a pilot this fall. Eventually, she thinks OASIS could be used outside of oncology, for example by shedding light on how people with multiple chronic conditions experience their symptoms.
Engaging Frontline Staff: Massachusetts General Hospital
Some health care systems have solicited ideas from frontline nurses for improving their workplaces and patient care. In 2016, Hiyam Nadel, M.B.A., R.N., director of the Center for Innovations in Care Delivery at Massachusetts General Hospital in Boston, launched one such effort. She'd been inspired by a nurse hackathon at Northeastern University, her alma mater. Among the 8,000 health care providers she emailed, who were mostly nurses but also social workers, therapists, and chaplains, she received just 40 submissions, and most didn't propose solutions but instead suggested more traditional research or quality improvement projects.
In the next round, Nadel and her colleagues solicited ideas in categories that had been suggested by staff, including improving communication with patients and learning about disease processes in real time. This time, they got three times as many proposals. Nurses vote to choose winners, and Mass General's leaders review all submissions to gain insight into what nurses see as problems.
Winners receive cash prizes (now $10,000, paid for by a local philanthropist) to develop their ideas, along with mentoring from Nadel. One of the winning submissions is an acuity tool that can be used to determine appropriate staffing for different cancer patients; often, nurses felt staffing models didn't account for variation in patients' needs. Other winning ideas include an adaptive feeding kit to help ALS patients feed themselves as their motor function declines and a device that lets babies in the NICU hear their parents' voices. (Babies who spend time in NICUs are prone to speech delays as children.)
During the pandemic, Mass General's leaders continued to solicit nurses' feedback, in part through monthly ethics rounds (now named support rounds) that have provided an opportunity for nurses to raise their concerns as they care for COVID patients. Mass General has held more than 300 such rounds. Typically attended by six to 10 nurses, these sessions have served as a release valve and surfaced nurses' ideas for how to better prepare for the next wave of COVID patients, according to Colleen Snydeman, Ph.D., R.N., executive director, quality, safety & practice. Snydeman leads the rounds with an interdisciplinary team that includes representatives from nursing, ethics, employee assistance, spiritual care, and social work. For example, nurses reported disruptions when their teams had been broken up to staff newly created intensive care units. For the second wave of the pandemic, Mass General kept teams intact. At nurses' suggestion, the hospital also created protected break rooms where nurses could step away from work, as well as centralized sources of information about evolving protocols.
Spreading Nurse Innovation
Many of the solutions described here were developed by advanced practice nurses, those who earn a master's degree or higher to pursue research and/or work more independently than registered nurses. This may reflect the emphasis that training programs for advance nursing practice puts on improving health for populations and systems of care.
But there are also efforts to elicit ideas from frontline nurses about how to improve their workplaces and patient care, as not all health systems have the resources to create their own nurse innovation programs. One effort to spread innovation beyond fellowship and award programs is being led by the American Association of Critical-Care Nurses (AACN), which has trained hundreds of nurses across 82 hospitals to serve as change agents.
To take part in AACN's Clinical Scene Investigator Academy, hospitals pay a nominal fee and nurses receive coaching to work as teams to identify problems and develop new approaches. Recent projects have promoted early recognition of sepsis and helped avoid pressure injuries among COVID patients. Others have surfaced ideas for avoiding burnout or deploying nurses differently. After the academy ends, nurses often continue innovating, according to Marian Altman, Ph.D., R.N., a clinical practice specialist at AACN. "It sounds corny but when you give nurses time and education and say, 'I believe in you,' it's amazing what they can do," she says.
(This story originally appeared in The Commonwealth Fund.)