Eighth-Graders Use Basketball to Help Support Nurses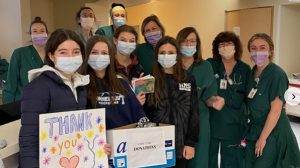 TRUMBULL, CONN. — Four Hillcrest Middle School eighth graders turned the game of basketball into a helping hand for area nurses.
Emma Fahy, Ella Grenier, Kylie Manuel and Quinn Mellinger led the effort as part of a service learning project in their social studies class's civic responsibility section.
The students searched for the right project, and agreed that nurses are severely underappreciated, calling them heroes who help everyone.
"We want to show gratitude and support for those who work to help others," Kylie said. "It just felt good for all of us to show our appreciation for something we think gets taken for granted."
The four decided to create gift bags for nurses. And what better way to get people to come together and maybe even donate than basketball?
The girls organized a youth basketball clinic — held on Jan. 13 at the Hillcrest gymnasium. The 90-minute session was free for any participant who brought a self-care item for the gift bags, such as hand cream, nail polish, lip balms, gum, mints, or granola bars.
The turnout from the community was "amazing," according to Principal Bryan Rikert, as more than 50 of Trumbull's youth participated. This translated into the creation of more than 250 gift bags. Their teacher, Lynn Brown, was on hand to supervise and oversee the activity.
"It is truly inspiring," Rikert said about the efforts of these four students and all the other eighth graders who performed service projects. "They are learning the value of giving back to their community."
The girls delivered care packages to nurses at Yale New Haven Hospital on Jan. 16. The students also delivered gift bags to each of the Trumbull school nurses.
"I'm proud of these girls," said Brown. "They made the most of this opportunity by choosing an issue they really care about and were motivated to make an impact. They were creative, planned, researched, overcame obstacles, and made a meaningful impact on their community in more ways than one."
Brown said her own children had fun at the basketball event.
"It is what we hope students will get out of this project — that they feel empowered in their ability to benefit others," Brown added.
All eighth-grade students at Hillcrest Middle School perform a service-learning project as part of their social studies classes with Brown and Carolyn Collins.
Students' learning begins with the concept of civic virtue, a fundamental principle embraced as essential to democracy. Students were asked to adopt a "benefit mindset" to fulfill their own potential, Collins said, while contributing to the well-being of others and society.
"The service project allows students to have meaningful experiences contributing to their community that demonstrate to them that they have the power to affect change," Collins added.
Students are guided to identify needs in their community that they want to address and to exercise leadership every day as they improve the circumstances in their community, according to Brown.
The students connected with a variety of different organizations and developed a wide range of projects that they completed over several weeks.
Some examples include collecting and donating supplies to Open Doors in Norwalk to help families adjust to new living circumstances; helping the elderly provide for their pets during the holiday season through the Catherine Violet Hubbard Sanctuary in Newtown; running a craft activity for elementary-age children at the Boys & Girls Club of Milford; collecting donations for Kick for Nick, which works to distribute sporting goods supplies to children globally; participating in recycling and clean-up drives with Sustainable Trumbull; volunteering to participate in activities with senior citizens at the Trumbull Senior Center; and collecting and donating books to Read to Grow in Branford to promote childhood literacy.
Some students developed their own unique projects to focus on specific
Some students developed their own unique projects to focus on specific concerns they had for hospitalized children, donating toys to area children's hospitals and making gift bags to show their appreciation for teachers working in stressful times.
Brown said these four students were motivated to help nurses in part because at least one of them has a parent who is a nurse, "so they had inside knowledge of the toll that the last few years have had on people in the profession."
"The compassion, enthusiasm and joy students have demonstrated proves that this kind of learning is invaluable," Brown said.
(This story originally appeared in CT Post.)