Defense Health Agency Nursing Awards Program for 2024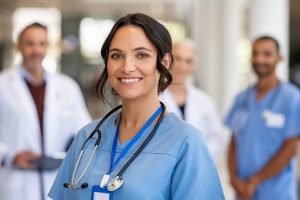 The Defense Health Agency (DHA) will recognize the finest nursing personnel within the Department of Defense and DHA beginning in 2024. The new awards initiative will honor service members and civilians annually who demonstrate exemplary leadership, champion high-impact solutions, or programs, and embody exceptional commitment to their patients, teammates, and the nursing profession.
DHA Chief Nursing Officer U.S. Army Col. Pauline Swiger said the work nurses do at military hospitals and clinics is "truly incredible" and helps DHA achieve its mission of improving health and building readiness.
"The new Defense Health Agency Annual Nursing Awards provide an opportunity to recognize our nursing teammates who exemplify professional nursing practice," she said. "It is through their model work and compassion that we see how dedicated and inspired teams of professionals make a difference."
To be eligible, nominees' achievements must have been performed in a DHA hospital or clinic and resulted in significant clinical or administrative accomplishments contributing to the practice and advancement of nursing in the Military Health System.
Awards will be presented in five categories: patient care/health care delivery/patient experience, safety and quality, evidence-based practice, healthy work environment, and trailblazer/pioneer.
Each DHA network may nominate one person in each of the five categories. Activities supporting the nomination must have occurred during the 2023 fiscal year, Oct. 1, 2022-Sept. 30, 2023.
All nomination packets, endorsed by the DHA Network Chief Nursing Officer or network designee, must include the nomination form, narrative, biography, any supporting documentation if applicable, and command or leadership endorsement.
Network representatives must send packets to Defense Health Headquarters through the DHA Nursing inbox dha.ncr.dha-cs-mgt.mbx.dha-nursing@health.milgoes to DHA nursing inbox between Nov. 1, 2023 and March 31, 2024.
"Meaningful recognition such as this awards program lets our teammates know how much DHA values their contributions and appreciates their engagement," Swiger added. "Employees nominated for this award have made a lasting positive impact on the health system, our staff, our patients, and military readiness."
Learn more about nursing in the Military Health System online at https://health.mil/News/In-the-Spotlight/Nursing-in-the-MHSopens Health.mil.