COVID Drives APN Practice Authority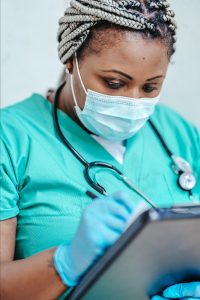 As emergency changes in response to the COVID-19 pandemic were made permanent, the past year saw significant progress toward increased independent practice authority for advanced practice registered nurses (APRNs), according to the Nurse Practitioner's 34th Annual Legislative Update. 
"Relaxation of existing regulations in supervision, collaboration, license renewal, and portability due to the continuing COVID-19 pandemic improved practice authority for APRNs in reduced- and restricted-practice states," writes Susanne J. Phillips, DNP, APRN, FNP-BC, FAANP, FAAN, of the University of California, Irvine, in her introduction to the annual report on legislative developments in APRN practice.  
In states that have enacted Full Practice Authority (FPA), NPs and other APRNs are having an impact. The report cites evidence from a recent study indicating that "states with FPA are associated with improved access to care in underserved and rural communities without compromising quality of care." 
Many states opting to retain emergency scope of practice expansions
As the Covid-19 pandemic spread across the US in 2020, many states adopted temporary, emergency regulations to expand the role of APRNs. These changes increased practice authority for all types of APRNs, including not only nurse practitioners and certified nurse practitioners, but also certified nurse midwives, clinical nurse specialists, and certified registered nurse anesthetists. 
As the pandemic enters its third year, the 2021 report observes further progress in scope of practice laws. The report observes that "many states have permanently adopted regulations and enacted new laws authorizing full-practice authority (FPA) with and without transition to practice (TTP) periods in 2021. States that have proceeded to make their emergency regulations permanent or enacted new laws expanding practice authority for APRNs include:  
Delaware and Massachusetts have passed amendments resulting in full practice authority. With its new law, Delaware joins North Dakota as the second state to join the 

"APRN Compact,"

 which allows APRNs to hold one multistate license with a privilege to practice in other compact states.

 

Two additional states enacted laws expanding practice authority, including a new pathway for full independent practice authority in Arkansas and a shorter time to practice period (from 5 years to 2 years) authorizing NPs to practice independently. 

 

Several other states – including Florida, Illinois, Louisiana, North Carolina, and Oklahoma – have enacted new laws or updated regulations improving practice authority for APRNs.

 
Other states have adopted laws authorizing APRNs and other providers to provide and be reimbursed for home health care and telehealth services. 

 

Arkansas, Louisiana, Maine, and Washington passed other changes improving reimbursement for APRN services.

 
Dr. Phillips notes that at the end of 2021, APRNs have full, autonomous practice and prescriptive authority in 14 states and the District of Columbia, and full practice authority following a transition to practice period in another 10 states. 
The Nurse Practitioner's Annual Legislative Update summarizes APRN practice authority and reimbursement status in all 50 states, based on a nationwide survey of state Boards of Nursing and APRN associations. The "34th Annual Legislative Update: Trends in APRN practice authority during the COVID-19 global pandemic" can be accessed for free.