'Cap Hospital CEO Pay': Travel Nurses Defend Their Price Increases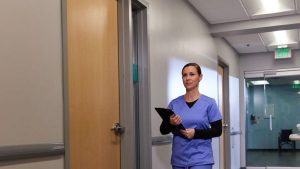 Hospitals and lawmakers all over the country are raising alarm over the high cost of travel nurses. Staffing shortages have increased the industry's reliance on these temporary workers. Administrators say these high costs are "crippling" their budgets. Studies show the cost of travel nurses has gone up 84% since 2019. And now hospital CEOs are calling on Congress to investigate.
But travel nurses are starting to push back against this criticism. They say hospital CEOs should be the ones getting a pay cut, not travel nurses.
Reigning in Costs
In early January, over 200 members of Congress signed a letter asking the White House to investigate travel nursing staffing agencies for potential price gouging. It was addressed to Jeffrey Zients, the White House COVID-19 response team coordinator. The lawmakers accused these agencies of artificially raising their prices to make a profit off the pandemic.
"We have received reports that the nurse staffing agencies are vastly inflating prices, by two, three or more times pre-pandemic rates, and then taking 40 percent or more of the amount being charged to the hospitals for themselves in profits," their letter states.
A short while later, the American Hospital Association (ANA) and American Health Care Association/National Center for Assisted Living sent their own letter to Zients, asking him to address the issue. They pointed out that the recent price increases do not reflect how much travel nurses are making on the job.
"Please be sure that our concerns focus directly on the agencies and not the personnel they represent," their letter states.
It's true that travel nurses tend to make more per hour than permanent nurses. However, whatever rate the staffing agency charges is not the same as the travel nurse's hourly wage. The agency will always pocket some share of the earnings.
The latest employment data shows that the average base salary for travel nurses is around $2,103 per week, which comes out to approximately $104,000 per year. However, staffing agencies often charge much higher prices. For example, Voyage Healthcare has been linked to prices as much as $4,509 per week, while White Glove Placement has been known to charge $3,453 per week.
Meanwhile, the average registered nurse makes just $75,330 per year, according to the latest figures from the Bureau of Labor Statistics.
"While overhead costs associated with staffing agencies have recently been targeted as a driver of staffing shortages, it is only one symptom of a much larger systemic problem. More needs to be done to effectively investigate and mitigate the root causes of nursing shortages," the ANA stated. "Changes must be made in providing better work environments, appropriate compensation and benefits and making patient safety a top priority to attract and retain nurses today and in the future."
As the debate over price increases heats up, travel nurses are starting to criticize C-suite executives that often make seven figures or more per year.
A recent Reddit message board is full of comments and stories from travel nurses criticizing the nature of the debate. They say Congress shouldn't implement price caps for travel nurses unless they are willing to do the same for CEOs.
"What do the CEOs even do?" one user wrote, while adding that the CEO at their hospital earns $4 million per year, not counting bonuses. "If he disappears tomorrow would anyone notice?"
"Ours makes his rounds to tell us to not depend on travelers, and staff nurses need to do more with less," another user posted. "Not kidding, that has literally happened multiple times on my unit."
"A lot of C-suite jobs are basically to justify their own existence. Make up rules, change processes, etc.," another user contends. "Cherry pick statistics to show that what you've implemented has been effective. While I'm sure there are a couple that are useful as far as monitoring finance and securing funding, there is usually a lot of fat that could be trimmed."
The comments are anonymous, but many argue that C-suite executives are becoming increasingly removed from what's happening on the front lines. In addition to criticizing their rate of pay, many nurses claim their CEOs add little to no value to their work environment.
In their eyes, the nurses are the ones with all the power.
(This story originally appeared in Scrubs Magazine.)