6 Ways to Build a Rewards Strategy to Retain Nurse Managers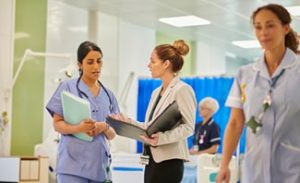 As hospitals and health system executives refine strategies to improve recruitment and retention of nurses, particularly nurse leaders, nonsalary forms of compensation may need closer scrutiny.
Most strategies tend to focus on role, scope, span of control, empowerment, recognition and professional development, notes the AHA's American Organization for Nursing Leadership's (AONL's) Nursing Leadership Workforce Compendium. While all are important, the evaluation of clinical practices explains that these strategies have limited impact if they do not address underlying market competitive compensation and rewards.
The Benefits Nurse Leaders Value Most
So, what do nurse leaders want most? Their most appreciated benefits include health insurance, incentive bonuses, performance incentives, retirement plans with matching funds and paid time off, data from a 2022 AONL and Deloitte Consulting LLC study showed.
Among well-being programs, flexible scheduling was ranked as the most important benefit by a wide margin, followed by extended time-off benefits (e.g., leadership sabbatical or family leave), subsidized or free training programs, formal recognition programs, peer-support programs and spaces facilitating well-being (e.g., tranquility/lavender rooms).
The report also underscores the importance of recognizing the complex environment nurse leaders find themselves in today. Many times, nurse managers' total compensation is less than that of the clinical nurses they supervise, due to bonus programs, extra-shift bonuses, overtime pay and weekend, night or holiday pay differentials.
This inequity creates dissatisfaction among nurse managers especially because they bear 24/7 accountability. And, as typically exempt employees, nurse managers often must provide bedside care due to staffing shortages and are rarely compensated for the extra hours they work, the report notes.
As for what impact current conditions are having on nurse manager turnover and related costs, it is difficult to measure, the report states. In reviewing literature on the subject, an AONL subcommittee found only anecdotal evidence on the average cost of nurse manager turnover and the impact of turnover on clinical and organizational outcomes.
4 Ways to Supplement Your Total Rewards Program
Include development and career advancement.
Offer tuition reimbursement, allocated days off for school, minisabbaticals to pursue further learning, and organizational support for employees to publish research or to attend and speak at conferences in a formalized compensation package. This demonstrates to nurse managers that their organizations are invested in their career progressions.
Provide miniresidencies in which nurse managers are mentored by rotating nonclinical members of the organization, as well as both clinical and external mentors. This can be an effective retention tool.
Offer "mental health days" and defined "work-at-home days," which can significantly support nurse managers.
6 Takeaways to Bolster Your Strategy
Closely track local pay trends. Market analysis for pay should be completed every six to 12 months depending on market dynamics.
Read the room. Conduct a total rewards optimization survey with nurse managers.
State your case. Produce total rewards statements to educate and highlight the total value of compensation.
Be flexible. Provide hybrid work schedules and roles for nurse managers to create opportunities to work from home.
Personalize benefits packages. This could include child and elder care benefits.
Create coverage plans. Provide an interim leader coverage plan to allow for extended time off.
Learn More
In all, AONL's Nursing Workforce Compendium covers seven critical areas of workforce best practices and innovations to aid and support nurse managers, including talent acquisition and attraction, recruitment and retention, leadership, how to create a positive practice environment and more. Download the report.
(This story originally appeared in American Hospital Association.)