12 Apps for Flexible Nursing Shifts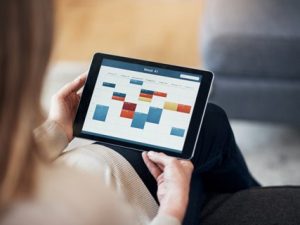 Registered nurses and licensed practical nurses can choose from available shifts at healthcare facilities by simply scrolling through an app on their phones. The following list of apps includes how to sign up, get vetted and get paid. Pick up flexible shifts easily when you travel between states in the Nurse Licensure Compact.
Gale App
How It Works: Nurses store their documents and credentials within the app so managers can access them as needed. The app connects nurses directly with healthcare facilities that have posted open shifts. The facilities benefit from shift coverage, and nurses can choose their desired shifts. Once a manager posts the open shift on Gale, nurses in the local area get notifications based on the filters they set.
Nurses can accept or decline the shift. Once a nurse accepts a shift, it's automatically posted on the facility's schedule. Scheduling becomes seamless for the hospital and the nurses. Nurses are paid immediately after the shift ends, and the app tracks location and billable hours for accuracy.
Cost: Free
SEE MORE @GALEAPP
Nurse Grid
How It Works: The Nurse Grid scheduling app gives staff nurses more control over their schedule, reducing the time managers spend on administrative tasks. The app connects the staff nurse with the schedule on their digital device. Nurses can swap shifts, see everyone working with them, compare calendars, and manage credentials.
Nurses who work in more than one location can merge their schedules when the hospitals use Nurse Grid. Schedules can also be shared with family and friends. Direct messages can be sent to request a swap with colleagues or plan an event. Nurses can also add expiration dates on their credentials and receive reminders when it's time for renewal.
Cost: Free
SEE MORE @NURSEGRID
VitaWerks
How It Works: VitaWerks matches CNAs, LPNs, and RNs with per diem jobs in their areas and assists nursing professionals in finding full-time employment. The app is currently available in seven states, including Pennsylvania, Florida, Texas, and California.
The app matches nurses with a "Nurse Champion" who coaches them through their job search for per diem work or a full-time position. In addition to salary, the app rewards a bonus for every shift completed and every nurse or facility referred. Shift differentials are paid for anything over 8 hours per day or 40 hours per week.
Cost: Free
SEE MORE @VITAWERKS
ShiftMed
How It Works: You must first download the app to go through the application process. They hire RNs, LPNs, and certified nursing assistants (CNAs). They also hire state-tested nursing assistants (STNAs) and community health workers (CHWs) in many different settings, like hospitals, assisted living communities, and skilled nursing facilities. Once accepted in the system, you can work 8-40 hours weekly.
They currently offer work in 24 states and are continuing to add more. Nurses are employed through ShiftMed as W-2 employees. Payday is every Friday, but you have the option to be paid within 24 hours of working. They currently have hired 100,000 nurses and are continuing to grow.
Cost: Free
SEE MORE @SHIFTMED
CareRev
How It Works: You apply through the app, upload your license information and state identification/driver's license, and submit information for a background check and drug screen. You must then pass a phone interview. The company hires RNs, CNAs, medical assistants, and surgical or radiology techs. Currently, the company is working with hospitals in 16 states and growing.
You are paid through CareRev as a W-9 employee. These are freelance gig workers. Taxes are not withheld, and a 1099 form is issued at the end of the year to pay taxes. You are responsible for paying quarterly taxes, so you do not incur a fine from the IRS at the end of the tax year.
Cost: Free
SEE MORE @CAREREV
IntelyCare
How It Works: Nurses working for the company are called IntelyPros. The app includes the application, documentation, certifications, and documented work hours. Nurses are W-2 employees, which means IntelyCare pays payroll taxes.
You have the option of using IntelyCare benefits, which include healthcare, retirement, workers' compensation, and medical malpractice insurance. The company also offers overtime, bonuses, holiday pay, and hazard pay.
You can retrieve a portion of your pay on the same day you work; Your regular paycheck comes weekly as a direct deposit. They currently have facilities in 31 states.
Cost: Free
SEE MORE @INTELYCARE
ESHYFT
How It Works: The company is currently working with facilities in 28 states and expanding. They hire CNAs, STNAs, licensed nursing assistants, geriatric nursing assistants, LPNs, and RNs using an in-app or online application process to work with nursing homes and long-term care facilities. Nurses are employees of ESHYFT, which means the company withholds payroll taxes. They offer no other benefits at this time. Nurses who work over 40 hours a week are paid overtime. Payment is sent weekly using the method you decide during the application process.
Cost: Free
SEE MORE @ESHYFT
ShiftKey
How It Works: The ShiftKey platform allows you to indicate credentials and highlight your certifications and specialties. You can set the app to send an email or text for the shift or placement you would like to work. The application process happens online, and you can find shifts online or in the app. Nurses are hired as W-2 employees, so ShiftKey takes out payroll taxes. They partnered with Stride to offer cost-effective benefits, such as health, dental, life, and vision insurance. You can choose to be paid the next day on the company PayCard or through weekly direct deposits.
Cost: Free
SEE MORE @SHIFTKEY
SnapNurse
How It Works: The company works with over 1,000 healthcare facilities throughout 41 states, so you are likely to find flexible nursing shifts in your area. You can apply online and find shifts in your area through the app. The company works quickly; you can get credentialed and begin working within 24 hours. You can browse available shifts or set filters to send available shifts in your area. The company posts over 25,000 available shifts each week. You can get paid immediately after the shift ends. The company offers pro re nata (PRN) or "as-needed" contracts in addition to short-term (two weeks) and long-term (as long as six months) assignments. They currently have over 350,000 staff working through the company. Nurses are paid as W-2 employees, and the company does offer some benefits that are not published on its website.
Cost: Free
SEE MORE @SNAPNURSE
Pick A Shift
How It Works: This company works exclusively with residential communities and nursing homes to provide staffing. You must download and apply through the app before registering with the care facilities in your area. Pick A Shift provides the facilities with the necessary documentation and credentials. The facility then verifies the applicant's credentials. After the facility has approved the nurse's credentials, Pick A Shift sends a notification when shifts are available. The pay for the shift increases as it gets closer to the scheduled shift. You are paid through the facility's payroll for the shift at the rate it was claimed.
Cost: Free
SEE MORE @PICKASHIFT
Nurseio
How It Works: You apply online through the company website. The company provides staffing for a variety of healthcare settings, including residential communities, rehabilitation centers, assisted living, behavioral health, memory care, hospice, and post-acute care. You clock in and out through the Nurseio app and are paid immediately after the shift has ended. The company is only working in a few states but is actively working to expand.
Cost: Free
SEE MORE @NURSEIO
Nursa
How It Works: Nursa works with RNs, LPNs, and CNAs to fill per diem shifts in healthcare facilities across 19 states. You have the freedom to work as much or as little as you choose. The application process occurs inside the app, including adding banking information for weekly direct deposit and filling out a W-9 form as a freelance worker.
The per diem shifts are posted in the app, which you may browse using search filters. After completing a shift, you are required to complete a shift report in the app.
Cost: Free
SEE MORE @NURSA