13 Top N.J. Nurses Honored for Professional Achievement, Contributions to Profession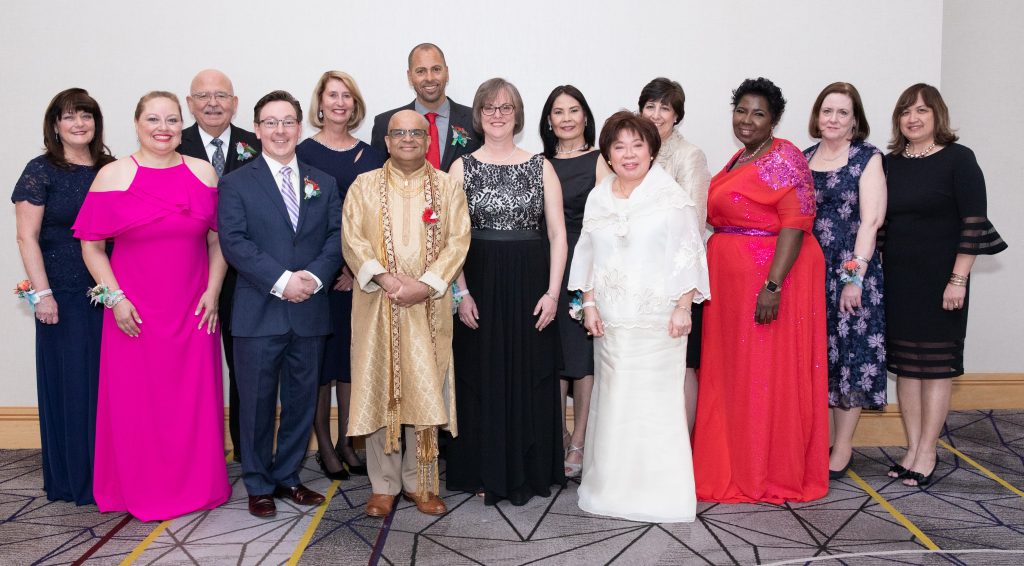 TRENTON, N.J.—April 5, 2019—The New Jersey State Nurses Association (NJSNA) honored 13 nurses for outstanding professional career accomplishments at its Divas and Dons Gala on Thursday, April 4, 2019, at the Hyatt Regency Princeton Hotel in Princeton, N.J.
Through its Divas and Dons in Nursing celebration, the Institute for Nursing, the foundation of NJSNA, calls attention to the outstanding achievements of accomplished New Jersey nurses. Proceeds from the event fund scholarships for nursing students and nurses who are advancing their education. The Institute also provides quality continuing education programs and grants for nurses involved in research.
"The mission of the Institute for Nursing is to preserve the heritage, principles, values and practices of our health profession through the support of scholarships, education and research," said Mary Ellen Levine, MSN/Ed RN CHPN, chair of the Institute for Nursing, the foundation of NJSNA. "Our goals include raising money to expand scholarship and research programs. We want to bring more nurses into the profession and continue to develop quality educational programs to keep nurses current on major advances in health care. This effort is vital to improving the quality of patient care in New Jersey."
The 2019 honorees are:
Vivek Agnihotri, DNP, RN, APN, CCRN
Associate Professor, County College of Morris, William Paterson University
Hospitalist/Advanced Practice Nurse, St. Clare's Health System
Robert Atkins, Ph.D., RN, FAAN
Associate Professor, Rutgers School of Nursing-Camden
National Program Director, Robert Wood Johnson Foundation New Jersey Health Initiatives Program
Nicholas Blanck, MSN, CRNA, APN-Anesthesia
Executive Director, Legislative Affairs, New Jersey Association of Nurse Anesthetists
Judy Colorado, MSN, MA, RN, NE-BC
Chief Nursing Officer & Vice President, Patient Care Services
RWJ Barnabas Health Monmouth Medical Center Southern Campus
Alana Cueto, MSN, RN, CNL-C
President-elect, National Association of Hispanic Nurses
Nurse Fellow, New York Academy of Medicine
Marie Foley, Ph.D., RN
Dean & Professor, Seton Hall University College of Nursing
Dely Go, DNP, RN, LNHA
President & Owner, Nursing Network Institute, LLC
Adjunct Faculty, William Paterson University
Rebecca Graboso, DNP, MBA, RN, APN, CNRN, CCRN
Vice President of Nursing/Chief Nursing Officer, Hackensack-Meridian Health Riverview Medical Center
Lori Herndon, MBA, BSN, RN
President and Chief Executive Officer, AtlantiCare Health System
William Holzemer, Ph.D., RN, FAAN
Dean & Distinguished Professor, School of Nursing, Rutgers, The State University of New Jersey
Norma Rodgers, BSN, RN, CCRA
Past President, NJSNA
Senior Clinical Research Associate II, Clinical Solutions, Syneos Health
MaryPat Sullivan, MSN, RN, CNS
Chief Nursing Officer, Atlantic Health System's Overlook Medical Center
Diana Tocko, MSN, RN-BC, NE-BC
Director of Quality, Clinical Practice and Education, Deborah Heart and Lung Center
View photos from the Gala.
###
About NJSNA
The New Jersey State Nurses Association (NJSNA) represents the interests of 125,000 registered nurses and advanced practice nurses as an advocate for the nursing profession. NJSNA, which was established in 1901, is a constituent member of the American Nurses Association. NJSNA's lobbying arm continues to protect the nursing profession through legislative victories. Its nonprofit foundation, Institute for Nursing, helps nurses further their careers by providing continuing education, scholarships and research grants in addition to invaluable networking opportunities. For more information, nurses can visit www.njsna.org or contact NJSNA at njsna@njsna.org or (609) 883-5335.