COVID, Nurses and the 'New Norm'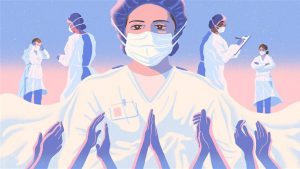 By Jennifer Larson
The stress of living and working in the COVID era is evident everywhere you look. A recent study in the journal Dreaming found that the anxiety and stress brought on by COVID-19 is even infiltrating our dreams. Is this the "new norm"? If so, how should nurses approach working in this situation?
An Evolving Situation
As the pandemic unfolded in the United States, hospitals in the hardest-hit areas scrambled to make sure their infection control practices were able to meet the challenge. Unfortunately, many places fell short, in part because they were short on personal protective equipment (PPE). In some hot spot locations, hospital staffers cobbled together solutions, some of which involved reusing N95 masks.
Now, months later, COVID-19 cases have spread throughout the country, and many areas are seeing a resurgence as states attempt to reopen in various forms.
Nurse practitioner Amita Avadhani, PhD, DNP, DCC, ACNP-BC, NP-C, CCRN, president of the NJSNA Forum for Advanced Practice Nurses, prefers not to think of the current situation as the new normal. "It is evolving every day," she says. "I don't think we'll go back to the pre-COVID times for a very, very long time."
Avadhani worked in an intensive care unit in a New Jersey hospital during the peak pandemic of the spring, saying it was "like a war zone," with the ICU overflowing with patients and adult patients filling up the pediatric ICU, as well. Some of those patients never made it home.
"The hardest part was seeing very young people die and having to deliver this news to their family members," she recalls. "It was terrible."
Everyone at her hospital vividly remembers the surge of COVID-19 patients and dreads the possibility of a similar second wave. "There is a lot of fear of the unknown," she says.
She continues, "Now we're at a point where the numbers are down, and we're kind of just waiting. There's this whole fear of how it's going to go."
Hospitalist Suzanne Pham, MD, director of the COVID-19 response team at Weiss Memorial Hospital in Chicago, also acknowledges the uncertainty of the current situation.
"It is very difficult to tell how long we will have to remain vigilant, but we foresee that all hospitals will need to continue precautions and protocols established to minimize risk of exposure and transmission," she says.
8 Strategies to Help Nurses Navigate Uncertainty in the COVID Era:
Talk to people who understand. Lean on your colleagues for support—and let them lean on you. You will have a better sense of what the other is going through. "We would constantly push each other up at the hospital, with 'We're in this together' and 'We're going to make it,'" says Avadhani of the staff at her hospital. "Just really caring for each other."
Learn your organization's policies. If you do test positive for COVID-19, you'll need to follow your organization's guidelines. You'll need to know who to notify, how long to stay home from work, and when you can return. This is important to know, notes Georgia Reiner, senior risk specialist at Nurses Service Organization (NSO), because an exposure or positive test result has major implications. "It could not only put your patients at risk, but it could put your coworkers at risk," says Reiner. If you work for a travel nursing agency, be sure to find out who to notify and how it will affect your assignment.
Secure your PPE. "Make sure your hospital has and is willing to provide the personal protective equipment you will need to protect yourself while you are caring for this population of patients," says Pham.
Talk to your family. If you're anxious about potentially exposing your own family to the virus, it's a good idea to discuss that with them. "Having an open discussion with your family and other loved ones is very important," says Pham. "Hearing their concerns and support will help you make decisions. Explaining the steps you take both at work and at home to keep yourself and them healthy will help you think through the process and help you develop a systematic approach."
Take precautions to reduce the risk of transmission. During the height of the pandemic, Avadhani began taking a shower and tossing her work clothes into the washing machine as soon as she arrived at home. "I wanted to assume that I'm contaminated until I've taken a shower and put my clothes in the wash," she says. She's kept up the habit, as have many other healthcare professionals who just don't want to take any chances.
Don't get complacent. As the pandemic stretches on, it's possible that you might get a little complacent about the virus, especially if you've cared for COVID patients but haven't contracted an infection yourself. However, the virus does continue to circulate. "So, at any point, one could be exposed to a strain of the virus that could cause severe to critical illness," says Pham.  "We all must not allow ourselves to let our guard down."
Find opportunities to reduce your stress levels. Practicing mindfulness to remain focused on the present moment can help you stay centered and calm. So can some simple deep breathing exercises. A gratitude practice might also help you appreciate the positive aspects of your life, and it can be as simple as naming three things for which you're grateful on a daily basis or writing them down in a journal.  Getting sufficient exercise and rest when you're off shift can also help you stay resilient.
Have faith in yourself. "What I think this pandemic has taught us is that we can actually do a lot more than we thought," says Avadhani.