Healthy Nurse Healthy Nation-New Jersey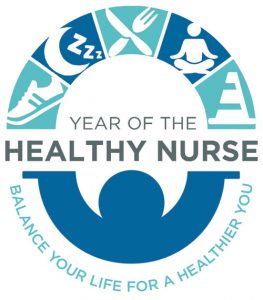 Nurses are role models, educators, and advocates for health and healthy living and 2017 brings a focus on the Year of the Healthy Nurse. To help the Garden State's 125,000 registered nurses become their healthiest selves, NJSNA is excited to partner with the American Nurses Association (ANA) for the Healthy Nurse, Healthy Nation (HNHN).
ANA's HNHN is a sweeping social movement to increase the health of the United States' 3.6 million RNs, thereby impacting and improving the health of the nation. HNHN focuses on five fundamental indicators of wellness: rest, nutrition, activity, quality of life, and safety. It also includes the continuation of #FitNurseFriday.
The ANA 2016 Health Risk Appraisal shows alarming trends for RNs and nursing students:
 AN average BMI of 27.6 overweight
 12 percent nodded off while driving in the past month
 Only 16 percent eat the recommended daily amounts of fruits and vegetables
 Less than half perform the recommended quantity and time of muscle-strengthening exercises (Insight Consulting Group & ANA, 2016)
New Jersey nurses are urged to do their part and make a pledge to participate in Healthy Nurse Healthy Nation though NJSNA's Quality of Life Mind-Body-Spirit initiative by creating and meeting a personal weekly goal.
To join Healthy Nurse, Healthy Nation: PLEASE DOWNLOAD DIRECTIONS HERE
To learn more about the national initiative, visit http://www.healthynursehealthynation.org/